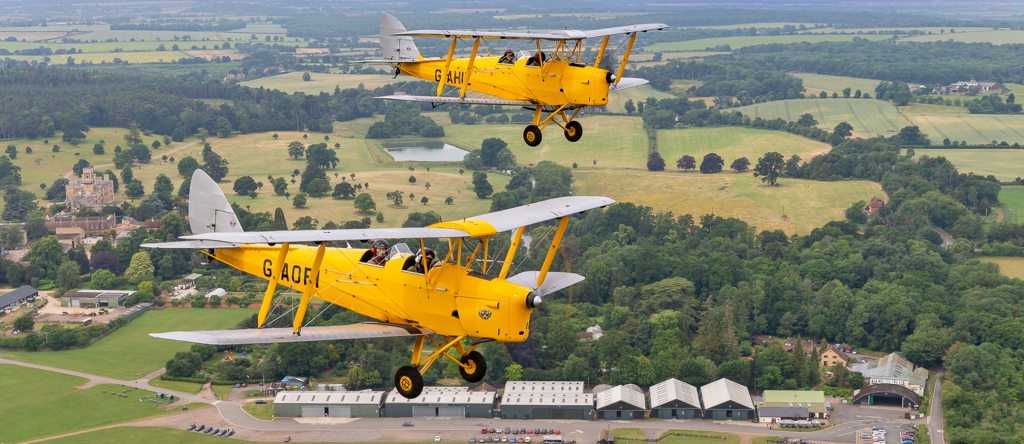 Introductory Flights and Air Experience Flights
Fly from Old Warden in a Tiger Moth
Cambridge Flying Group (CFG) is a totally volunteer based, non-profit making organisation with the objective of training the next generation of vintage aircraft pilots. CFG aim to keep the flying rate as low as possible to enable younger pilots to afford to fly Tiger Moths. CFG also runs a bursary for younger pilots in conjunction with the Worshipful Company of Coachmakers which funds 75% of the cost of training all the way through to a PPL on the Tiger Moth.In order to help subsidise the flying rate we sell Introductory Flights and Air Experience Flights. Our main interest is Air Experience Flights during which the instructor will teach the basics of flying the Tiger Moth. These flights offer a taster for potential new members of the group. CFG only fly on Thursdays, Fridays, Saturdays and Sundays.
Introductory Flights in the Tiger Moth
30 minute Introductory flight – £160, includes a £10 donation to the SVAS
30 Minute Experience Flight (First lesson Exercise 3) – £220, includes a £20 donation to the SVAS
If you are interested in a flight, please fill in the form below and a member of CFG will get back to you soon.
All flights are subject to availability, aircraft servicability and weather conditions.